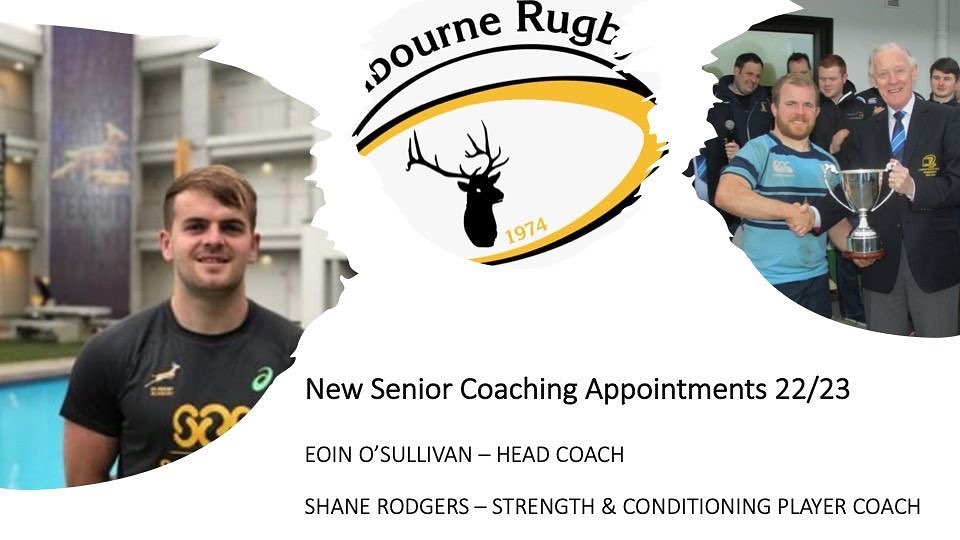 Ashbourne RFC Welcomes New Coaching Team
Ashbourne Rugby Club is delighted to announce the appointment of Eoin O'Sullivan as Head coach to our Senior Men's squad for the 2022-2023 season. Eoin has accumulated a wealth of playing and coaching experience through his involvement with UL Bohemians and MU Barnhall. Eoin was instrumental in MU Barnhall's success at under 20 and Senior levels over the past number of years and is looking forward to taking over the reins at Ashbourne where he intends to drive standards, add value and continue the legacy of success that the Club has achieved.
Eoin will continue to be supported by the incumbent coaching team of Donal Crotty, Adam Sherrard, Kevin Quinn and Jeff Mahon.
The Club is excited to announce the additional appointment of Shane Rodgers as the Strength and Conditioning coach to the Senior Men's squad for the 2022-2023 season. Shane boasts a highly decorated CV which includes a vast array of experience working with teams such as the South African Under 20's, Ugandan 7's and the Stellenbosch Academy. Shane is also an accomplished player with a competitive career in numerous sports. As such, Shane will also be joining the Club in a playing capacity and we look forward to welcoming his contribution on and off the rugby field in the coming season.
Declan Shanahan will takes on the role as team manager for the coming season.
Ashbourne Rugby Club looks to cultivate a continuous learning environment where our players are encouraged to improve their skills, develop their knowledge of the game we love and express themselves on and off the pitch in a manner which aligns itself to our core values. We want to wish our coaching ticket the very best of luck for the upcoming season.