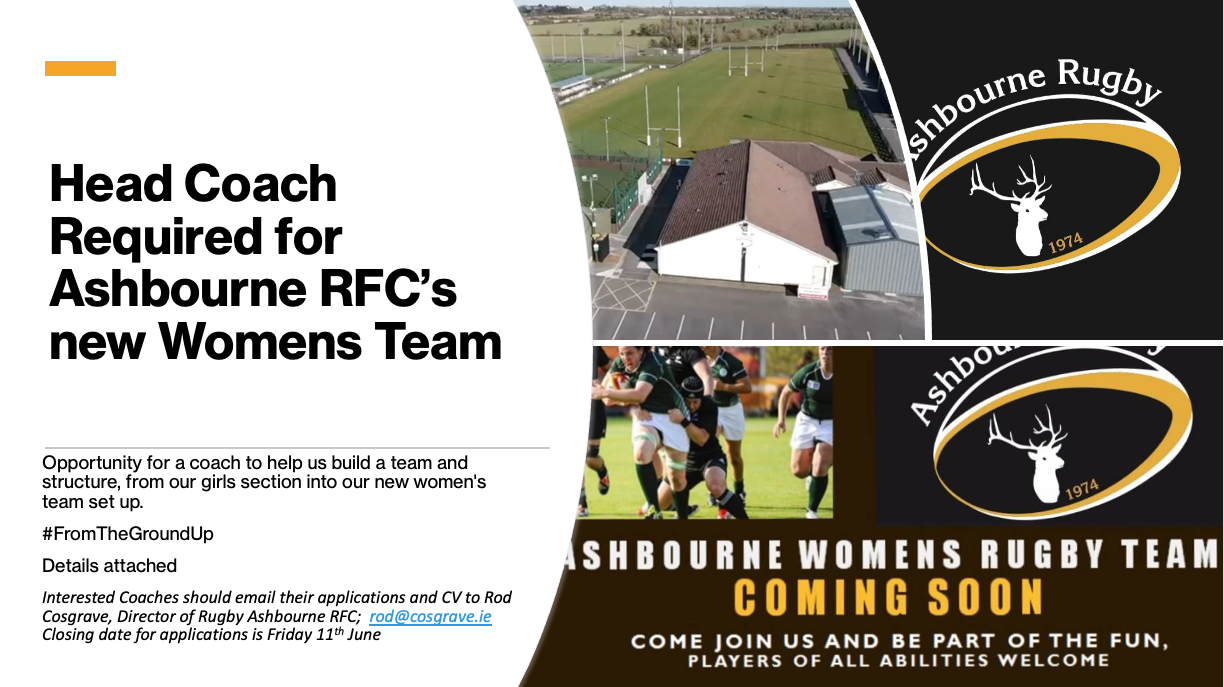 Great New Coaching Opportunity
Great New Coaching Opportunity
Ashbourne Rugby Club
for a person who wants to help build something special From The Ground Up!
Girls section up and running and now we need help to transition this into a successful Women's section at the club. All the facilities are in place at the state of the art facilities.
If interested see the details attached
Head Coach – Ashbourne Rugby Women's Team
Ashbourne Rugby Club are inviting applications for the role of Head Coach for the launch of our newly formed Women's Senior Team. This marks an exciting new era for Ashbourne RFC of a return to Women's Rugby at our club, at a time where our Youths Girls teams are expanding in numbers all the time, and the desire to have a Women's team in the local and surrounding areas is extremely strong. Our Men's sides have had unprecedented success in recent years, and we would be ambitious for success with our Women's team to follow suit.
The club is renowned for its state-of-the-art facilities and is one of the best playing / training surfaces in Ireland. Ashbourne Rugby is committed to the continued development of women's and girls' rugby. This also includes standalone and self-contained Womens/Girls dressing rooms
THE COACH
Hold a Stage 3 IRFU Coaching Accreditation or be a Stage 2 Coach working towards their Stage 3 Accreditation.
Have a good understanding of Ireland's women's and girls' game and the rugby landscape through previous coaching or playing experience.
Have experience and a proven track record of achievement in developing players, including late beginners and players from other codes, to reach their potential.
Management and organisation skills to lead the Club's women's rugby program while leading assistant coaches, captains, and other volunteers.
Ability to lead, motivate and engage ladies and girls' players throughout the Club.
THE ROLE
Act as the Head Coach for the Women's club XV
To coordinate with assistant coach(s) and Manager and plan / deliver appropriately fundamental skills, understanding of the game in challenging training sessions.
To act as the Head Coach and prepare players on match days for the Women's club team.
Support the Club in player recruitment, retention, and development, and engage with the Youth girl's programme.
Most importantly to create a thriving, enjoyable and competitive environment for the players to learn and play rugby.
Reporting to the Director of Rugby
Interested Coaches should email their applications and CV to Rod Cosgrave, Director of Rugby Ashbourne RFC;  [email protected]
Closing date for applications is Friday 11th June