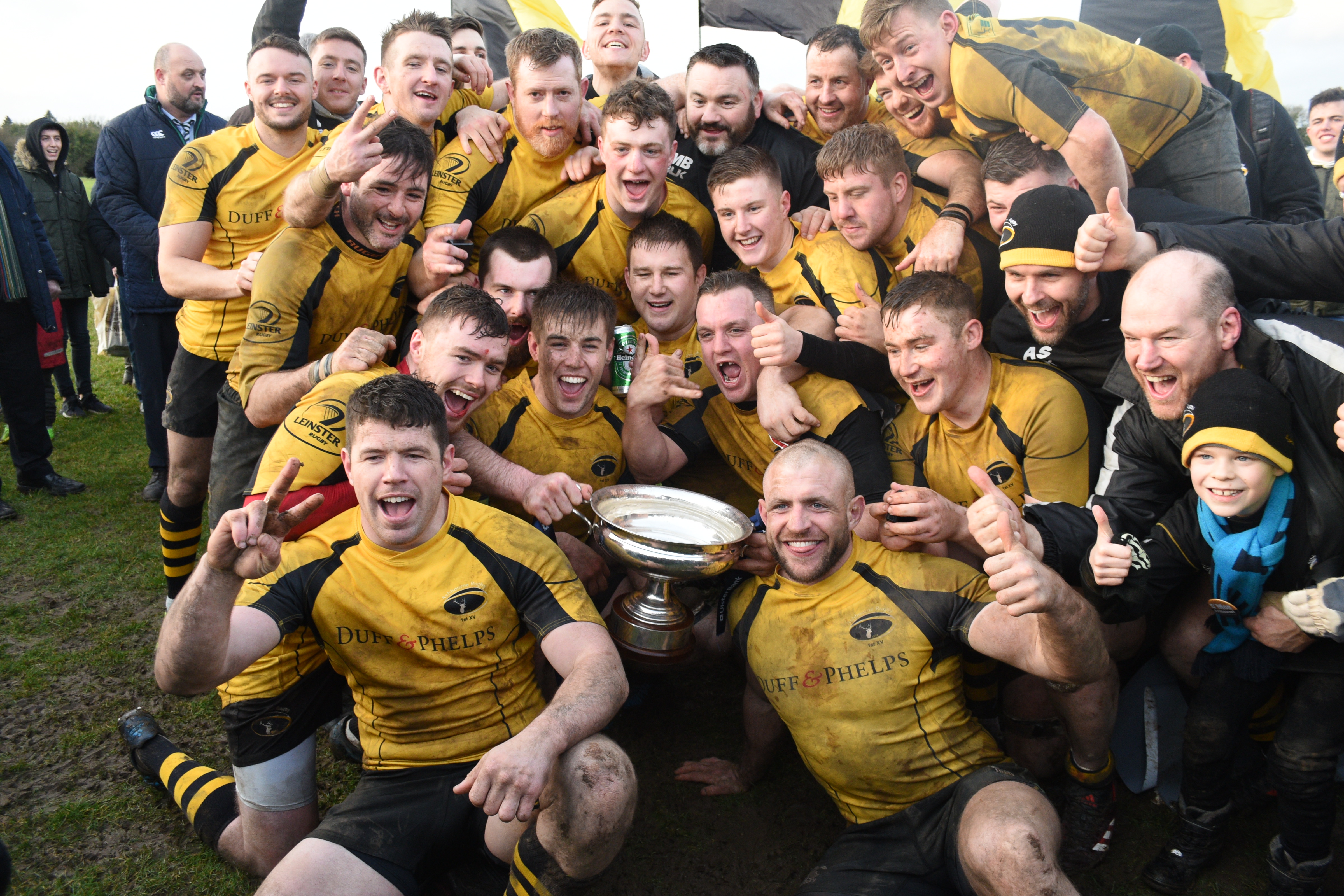 All Ireland Junior Cup Winners Again
ASHBOURNE 18
KILFEACLE & DISTRICT 9
Portlaoise RFC
Ashbourne successfully defended their Ulster Bank All-Ireland Junior Cup crown with a deserved 18-9 win over first-time finalists Kilfeacle & District this afternoon. This keeps the cup in Leinster now since Crosshaven won it in 2011, Ashbourne is the second team to do the double, which Tullamore did 2012 and 2013.
The venue was Portlaoise RFC and the afternoon was wet and dreary and the game played on a very heavy pitch, but sides raised their game to entertain a large crowd that had arrived in good voice. Ashbourne would have started favourites but Tipperary challengers Kilfeacle were bidding to become the first Munster winners of the cup since 2011, and chose to play with strong wind behind them in te first half. They got off to an encouraging start with out-half Jamie Heuston nailing a 10th minute penalty from straight in front of the posts after a period of sustained pressure with the Kilfeacle backrow causing havoc. Ashbourne knew that they would be under pressure from early on but their defense has been excellent all season and it stood to them again.
After 10 minutes Ashbourne injury to center Adam Martin open the way for Fingal man Mark Rooney to come into the center and any fears that this would weaken the side were eased with shuddering tackle that knocked his opposite number backwards. That was the tone for the game with Deevy, Hurley, Wall and McKeon all tackling with ferocity.
But wind-backed Kilfeacle needed to put more scores on the board given the conditions but they did not use the wind to any measure and played into Ashbourne's hands by taking on the Leinster League leaders in a physical contest. But Ashbourne struck with an unconverted try on the stroke of half-time. Full-back Stephen O'Neill scored in the right corner with Donal Crotty, Mark Rooney and Casey Dunne all involved in the build-up.
Out-half Crotty went on to be Ashbourne's match winner with a talismanic second half performance. He took over kicking duties on the day from Gavin Kennedy, who was playing with an injury, and in the second half he knocked over two penalties, sandwiching a second effort from Kilfeacles Heuston, soon after the resumption. That gave the Leinster men an 11-6 lead to take into the final quarter, as the rain descended.
But Kilfeacle were not done and an excellent 64th-minute strike from Heuston set up a grandstand finish, though, at 11-9. But Ashbourne has shown all season that the last quarter is when they really come into their own. Szpara came in as well offering a powerful set of fresh legs, as well as Roche in a prop.
With 15 minutes left Ashbourne struck to decisively to keep the trophy in Ashbourne. Deevy was the instigator and when he was held up a few metres out before Ashbourne retained and recycled possession in impressive fashion and swung it out for Crotty to cross the line and then add the extras himself.
Jeff 'Legend' Mahon and matt Connolly were introduced to keep Kilfeacle at bay as they threw everything at Ashbourne but the champions held out to win by a score of 18 to 9.
Scorers for Ashbourne
Tries: Stephen O'Neill, Donal Crotty
Con: Donal Crotty
Pens: Donal Crotty (2)
Team: Alan Wall, James McCaghy, Frank Keegan, Sean Kent, Conor Hurley, Simon Deevy, Sean McKeon, Jake Wall, Gavin Kennedy (Capt), Donal Crotty, Colm Craigie, Adam Martin, Jack O'Brien, Casey Dunne, Stephen O'Neill
Subs: Brendan Meehan, Ciaran Roche, Jeff Mahon, Joey Szpara, Mark Rooney, Shane Bass, Matt Connolly